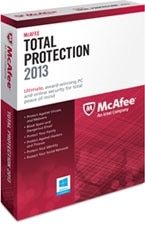 Complete protection from online threats
McAfee Total Protection 2013 guards your computers from viruses, malware, hackers and nearly every imaginable online threat. With its advanced antivirus, anti-phishing and anti-spam software, this full-featured security suite ensures you can browse the internet safely. It also comes with innovative social networking utilities that let you safely share online content. This pack includes three licensed copies of Total Protection 2013, making it ideal for families and small businesses.
Continuous, real-time anti-virus scanning
Featuring advanced security software, McAfee Antivirus Plus continuously scans emails and websites for threats, including malware, spyware and adware. If an email or website contains suspicious content, McAfee's Active Protection immediately intercepts it to keep your computer safe.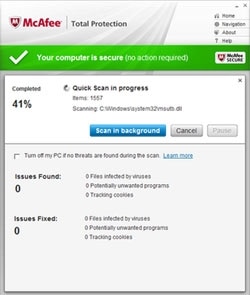 Quick, non-intrusive scanning.
View larger
.
Anti-Theft and SiteAdvisor software protect your identity
McAfee Total Protection safeguards your personal data from hacking, phishing and cyber theft. McAfee's exclusive Anti-Theft software lets you place your sensitive documents in a password-protected vault, while McAfee SiteAdvisor blocks online phishing.
Share content with peace of mind
In the age of social networking, it's easier than ever for malicious content to spread from system to system. McAfee Total Protection warns your friends of potentially risky sites, so you can share content without worry of spam or malware. In addition, an integrated URL shortening service lets you shorten lengthy links for more convenient sharing.
Advanced spam filtering
Keep your email inbox safe with McAfee's anti-spam technology. McAfee's filters protect you from dangerous or offensive content, letting you access your email with peace of mind.

Protect Against viruses and malware

Block Spam and Dangerous Email

Protect Your Family

Protect Your Personal Data

Protect Against Hackers and Thieves

Protect Your Identity
Customizable parental controls
McAfee's Total Protection software suite comes with Customizable parental controls that let you block sites and configure age-based web-browsing rules.
Password-encrypted cloud storage
McAfee also gives you access to free online storage space. This cloud storage is protected by an encrypted password, ensuring your data is kept safe.
Two-way firewall safeguards sensitive information
McAfee Total Security boasts a two-way firewall, which regulates traffic moving both in and out of your network. This helps lock intruders out while keeping sensitive information in.
Safe, secure search results
When you conduct an online search, McAfee Total Protection identifies potential attack sites that may install malicious code, phish for information or send you spam. The software places color-coded icons next to each site, so you'll always know which pages are safe to visit.
Quick, non-intrusive scanning
McAfee Total Protection conducts its scans without distracting you from your online activities. You'll be able to surf the web and browse removable storage with minimal interruptions.
Permanently destroy files with data shredder
With the built-in digital data shredder, Total Protection lets you permanently destroy files. This prevents your personal data from being retrieved when you donate, recycle or lend your PC.
Eliminates existing threats during installation
McAfee Total Protection also eradicates malicious programs that were present before installation. As it is being installed, the antivirus scans your hard drive for threats, helping you secure your system.
System requirements
McAfee Total Protection 2013 is compatible with Microsoft Windows XP Service Pack 3 or higher (32-bit), Microsoft Windows Vista Service Pack 1 or higher (32-bit and 64-bit), Microsoft Windows 7 Service Pack 1 (32-bit and 64-bit) and Microsoft Windows 8. It requires 512MB RAM for XP, 1GB RAM for Vista and Windows, 7,500MB free drive space, a minimum 1GHz processor and an internet connection.